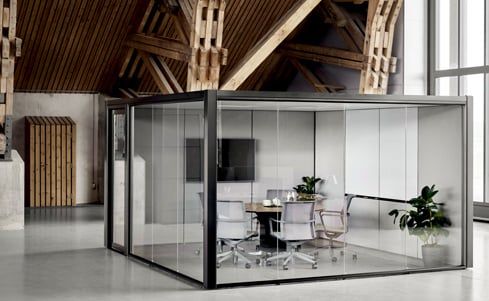 Office Pods
Office Pods are increasingly popular, mainly due to the need for alternative free space acoustic meeting areas and 'quiet zones' for focused work within the open-plan office environment.

Acoustic Office Pods allow businesses of all sizes to create additional and movable room-in-rooms of various sizes. They also don't require planning permission, and there are no dilapidation costs at the end of the lease.
Our range of interior and movable office pods for sale includes acoustic office meeting pods, lounge pods, work pods, office desk pods and office phone booths. Each of which offers a wide range of materials and fabric colours to match your interior workspace.
Kolo Duo Meeting Pod

Kolo Duo Meeting Pod is a unfixed two to four person meeting space available from stock.

HushHybrid Work Pod

HushHybrid Work Pod is a single user hybrid work and better video conferencing Pod.

Snug Plus Work Booth

Snug Plus Work Booths provide semi-enclosed workspaces for focused work and conference calls.

Oasis Linear Study Pod

Oasis Linear Study Pod with integrated soft seat and worktop is perfect for undisturbed calls and work.

Cell Pod Zoom Booths

New Cell Pod Zoom Booth - acoustically enhanced single users pods for Zoom, Meet or Teams calls.
What Is an Office Pod?
What is an Office Pod? An Office pod is an internal room-in-room solution that provides offices with acoustic meeting space such as meeting room pods, two or four-person lounge pods, workstation pods, office work booth and office phone booths. Office pods are an excellent alternative to circumvent traditional construction solutions. Pods are freestanding units designed to be completely self-contained, need no planning permission, and pass every building standard and fire-regulation.
Different Types of Acoustic Pods for Offices
There are many various types of pods on the market, offering a wide range of styles, sizes, and finishes with the option to customize spaces to your requirements. Each pod is unique in its structure, providing different acoustic properties with wall panels that help with sound reverberation. 
With soundproof pods for offices, you achieve a greater office noise reduction and also a high level of speech privacy, giving users a comfortable space to perform office-related tasks and confidential or sensitive meetings.
Other features of acoustic pods for offices to deal with privacy and for comfort and creativity include:
Led lighting and air circulation activated by infra-red motions sensor,
Power outlets and USB charging ports
Whiteboard panels
TV monitor brackets and pinboards
Pods include meeting tables and acoustic furniture
Here is a brief description of the main types of office pods:
Office Phone Booths
Office Phone Booths provide the workplace with single-user free spaces ideal for taking personal calls and video conference calls. Through the use of enclosed office booths, businesses can prevent workers from pacing around the office on a phone, using large meeting rooms for privacy or leaving the office for personal telephone calls. The single user office booth comes in many shapes and sizes and is the most compact solution for small workplaces.
Meeting Room Pods 
Available in both standard sizes and as modular room-in-rooms, meeting room pods offer a wide range of  acoustically enhanced shapes and sizes for all types of business-related tasks. Office meeting pods offer bespoke unfixed room-in-room solutions like adding another meeting room when a business might need one, providing cellular offices for departments or managers and smaller two person meeting pods and focus work booths for video conferences. 
Office Work Pod  
It's never been easier for workers to collaborate in the open office. But its also never been harder to hide. Open, flexible, activity-based spaces make workers more visible. Office Work Pod solutions help office workers escape the openness of the office to work and focus undisturbed. Designed as a small enclosed desk pod, the office work pod provides everything a worker needs to get the work done while staying connected.
Adaptable Creative Space
Pods provide an excellent solution when in need of additional meeting space for quiet privacy zones and collaboration spaces within modern workspaces.
Designed as independent units with their own structural framework, acoustic pods for offices' are made up of sound-absorbing wall panels, glazed partitioning and flat roofs and make for simple installation and reconfiguration as the needs change within an organisation. The units simply "plug and play".
Functions and benefits of office pods
The office pod has become a popular archetype within the modern office furniture landscape. Here are some of the benefits of using pods in the office:
Free space for enhanced privacy when required

Provides enclosed spaces for concentration

Improves the wellbeing amongst staff

Lowers the stress of office workers

Provides complete confidentiality

A pace to help escape noise - office noise reduction

All are movable office pods - some on wheels
How do I find the right office pod for my company?
At furnify, we have over 15 years of experience with soundproof pods for offices. Since the inception of the first indoor office pod designed for privacy and office noise reduction, we've been advising, planning and installing all types of acoustic booths and pod solutions throughout the UK. 
We can guide you through the selection process, starting with choosing the right type of pod for you, based on your space, your needs regarding function and flexibility — and your building's regulations.
Contact us now and find out how your office could benefit from our range of soundproof pods for offices.