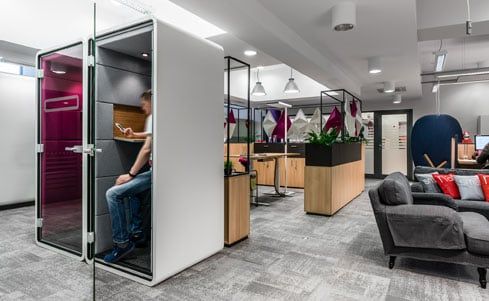 Office Phone Booths
Office phone booth solutions designed and built for modern office spaces. Find a wide selection of floor-standing soundproof phone booths for every situation - varying from fully equipped corporate office phone booths to cost-effective solutions.
Acoustic office phone booths were created to address two core issues relating to the modern working environment and the open-plan office: firstly, the need for physical and acoustic soundproof privacy, and secondly, the need for an internal personal free space. These single-user acoustic phone booths provide staff with a quick escape from ambient noise and can be located next to or near their primary area of work. Positioning acoustic office booths within proximity to workspaces help reduce call answer delay.
Office Phone Booths for Office
It's been 93 years since the K2 telephone box or booth was accepted to be the London Metropolitan Borough's phone booth of choice and brought into service on the streets of London. The telephone box, a kiosk was painted red so that it could be easily spotted and is known as a British cultural icon throughout the world. With the arrival of the mobile phone culture in 1985 and its advances, the number of phone boxes on London's streets declined sharply by the 1990s.
However, with the advances in technology and the modern office, there has been a resurgence of the phone booth in offices, as an acoustic privacy booth solution to escape ambient noise. Now used indoors, these free-standing acoustic phone booths for offices provide a quiet free space for private phone calls, video conference calls or to work undisturbed. Single Person office booth solutions provide staff with a quick escape located next to or near their primary area of work. Positioning office phone booths within proximity help reduce call answer delay while providing staff with free space soundproofed phone boxes.
What is an office phone booth?
An Office Phone Booth is a modern office furniture solution designed to provide the office worker with an enclosed space for phone calls or conference calls. It's a free space solution for employees who struggle to work in open-plan offices and face increasing challenges in finding a quiet place to have phone conversations or work undisturbed. These single-user acoustic phone booths provide staff with a sound-absorbing quick escape located next to or near their primary area of work. Positioning acoustic office booths within proximity helps reduce call answer delay while providing staff with a free space "soundproof" booth. Phone Booths also help reduce the number of employees using larger meeting rooms for a bit of privacy. Available in a wide range of designs and styles, furnify feature phone booths with built-in features to help users work in privacy while staying connected.
The enclosed acoustic phone booth pods, feature acoustic properties with the latest technology and accessories for a comfortable escape to work. They answer the need for free spaces that seamlessly merge the physical world and the digital world. Equipped with power sockets, USB A+C charging ports, and data ports keep the user connected and their mobile devices charged. Additional accessories such as whiteboards, cork pinboards, and Bluetooth speakers can also be added as an optional extra. For a pleasant experience, the office phone booths have integrated lighting and an active ventilation system which is turned by the booth's motion sensor.
An alternative to an enclosed acoustic phone booth is the open phone booth. Open on one side for entry three acoustic screen walls protect the user. All lined and upholstered with sound-absorbing material. The open booth protects the user with high side panels and maybe a canopy depending on the model from visual distractions and some sounds. They are more cost-effective than the closed office phone booths as they do not come with all the features.
Lastly, there are the wall booths or acoustic phone hoods that fix onto the wall and offer temporary shelter from ambient noise. Ideal for areas like walkways or large reception halls where there is a lot of noise or where you want to discourage lengthy calls. Phone hoods provide users with a functional space offering a shelf unit and pen holder to assist with taking notes or memos.
We at furnify can help navigate you through the endless range of meeting pod, acoustic office phone booths, open booths and phone hoods on the market to ensure you find the right solution for your open-plan office. Browse our site to discover the best ways you can work undisturbed take private phone calls and video conference calls. Alternatively, contact us where one of our consultants will happily answer any questions or advice on options.
How Your Business and Workers Benefit from Having Office Phone Booths:
They provide a personal quiet space with acoustic properties helping free up meeting rooms
Office booths contribute to employee wellbeing and reduce downtime
No dilapidation cost at the end of the lease period
They should be seen as an investment as they reduced time & cost for relocation
There is less if any Landlord interface and approvals with office booth solutions.

The Importance of Good Ventilation Systems in Phone Booths
It's essential to have an efficient ventilation system on any office phone booth or office pod solution. When researching the best office booth solution for your working environment, it's important to remember a cost-effective booth isn't necessarily a good idea. Cheap phone booths often come fitted with a basic fan unit, which means it delivers a constant and un-adjustable flow of air from inside the office.
Having a booth solution with a basic fan unit means the same room temperature air is fed into the booth during the occupation. Combined with the user's body heat and the heat generated by the light source could make the cabin uncomfortable if used for extended periods. Booths with ceiling-mounted packaged cooling systems might be a better solution that you won't regret.
Office Phone Booth Furniture
Most office phone booths are supplied unfurnished. The reason behind this is that it's a single user cabin that's already limited in space.
Some booths like the Hush and On the Qt Phone Booth offer seating through a stool or built-in soft seating. The Hush provides an optional centrally located height-adjustable stool that comes fixed to the floor. Having a seat can be restrictive as it doesn't leave enough room around the stool to stand and it cant be moved.
The On the Qt Phone Booth range hover offers two booths, a shorter seated version with seating and a taller standing version without, but a freestanding stool can be added. The Short Qt Phone booth with built-in soft seating offers a seated phone booth solution aimed at the majority of office workers that make use of booths for more extended periods.