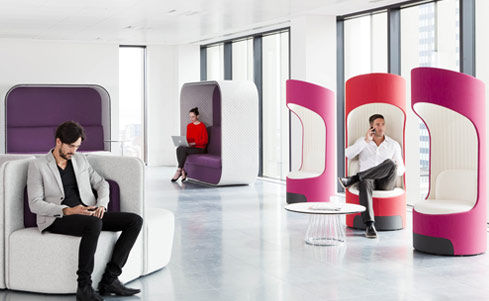 Privacy Lounge Chairs
While open offices are great for encouraging collaboration, they don't always offer the kind of privacy one needs to escape the noise and get some work done. By introducing privacy lounge chairs, they help provide comfortable escapes of solitude. The high back lounge chairs create a semi-private cocoon to sink away while being protected from any visual distractions with acoustic benefits. These resimercial private office chairs with their winged backs or wraparound sides shield the user from ambient noise and block distractions. Designed to address the needs of the modern worker, they provide a comfortable work chair with enhanced features like an integrated writing tablet, a built-in power source and swivel base to turn away from visual distractions.
These contract lounge seating solutions can be used throughout, from receptions to breakout areas and in the open office. Dotted around the open-plan office, they can be used solo or face-to-face for small groups.