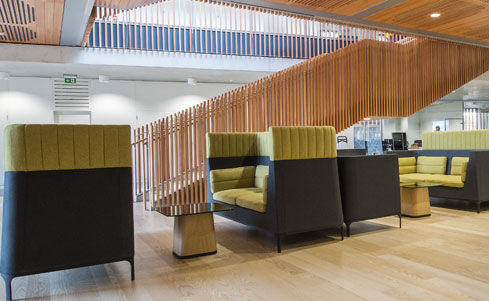 Office High Back Sofas
Introducing office high back sofas into the workplace can help solve a range of acoustic problems and provide staff with alternative work and informal meeting spaces. Office high back sofas come in a variety of designs and sizes, helping create useful free space zones throughout the open office environment. Many high back work sofa systems are modular and include sofa elements like linking screens to create acoustic soft seating booths or pods. Large two and three-seater high back sofas can be used individually, or configured and connected with screens to form collaboration zones for teams to meet, train or work. The linking walls have integrated power modules, fittings for smart TV's are available for video conferencing and presentations. Work tables can also be integrated into the walls with cable management to support working teams.
Our stunning soft seating range of office privacy sofas offers standard sizes and modular seating suitable for offices, breakout spaces, reception areas and hotels. They are a great addition to offices that struggle with ambient noise. Adding acoustic office furniture helps provide shelter for staff while also absorbing and diffusing sound. Available in a variety of different finishes and fabrics.