Stylish Office Chair with Oak Veneer Back
The Lan Desk Chair is a collection of alternative office task chairs that is both compact and welcoming with integrated elements. The collection comprises of three backrest heights for the swivel chair model and a low-back for the four wooden-legged version. See below for more details.
Lan Desk Chair
The Lan Desk Chair is for those of us who don't like the look of office chairs. The Lan seating collection is the result of a challenge set by the Basque furniture manufacturer Alki, in partnership with Iratzoki Lizaso.
They decided to create an office desk chair that adheres to the ergonomic requirements of office seating while also maintaining the warmth and emotional attachment that comes with the Alki brand. The design aesthetic leans more towards an orthopaedic tool than a cherished workplace companion.
The functional elements of the Lan chair are inconspicuous: the mechanism disappears under the seat, and the armrests form an integral part of the backrest. Detailed work went into the curving shape, materials and contact zones, all meticulously crafted to ensure enjoyment when seated. Wood, a favourite natural material, is used for both the inside and outside of the seat.
Supported by a five-star base on castors finished in either a white or black, Lan office chair provides the user with a pleasant and comfortable alternative to the traditional task chair. When compared, the Lan office chair is a compact and inviting chair with integrated seating adjustments. 
Choose your finishes
To ensure the desk chair brings both comfort and calmness into your workplace setting, choose from a wide range of fabrics and four wood finishes for the frame.

For upholstery on the chair choose from Europost, Luna, Crisscross, Steelcut Trio, Capture and Molly. For leather, there are 17 colours to choose from.
For the wooden frame finish on the back, there are five veneers to choose from to add a touch ow warmth and elegance to your Lan desk char. They include Natural oak, Ash-grey oak, Tourbe oak, Carbon oak and Walnut stained oak.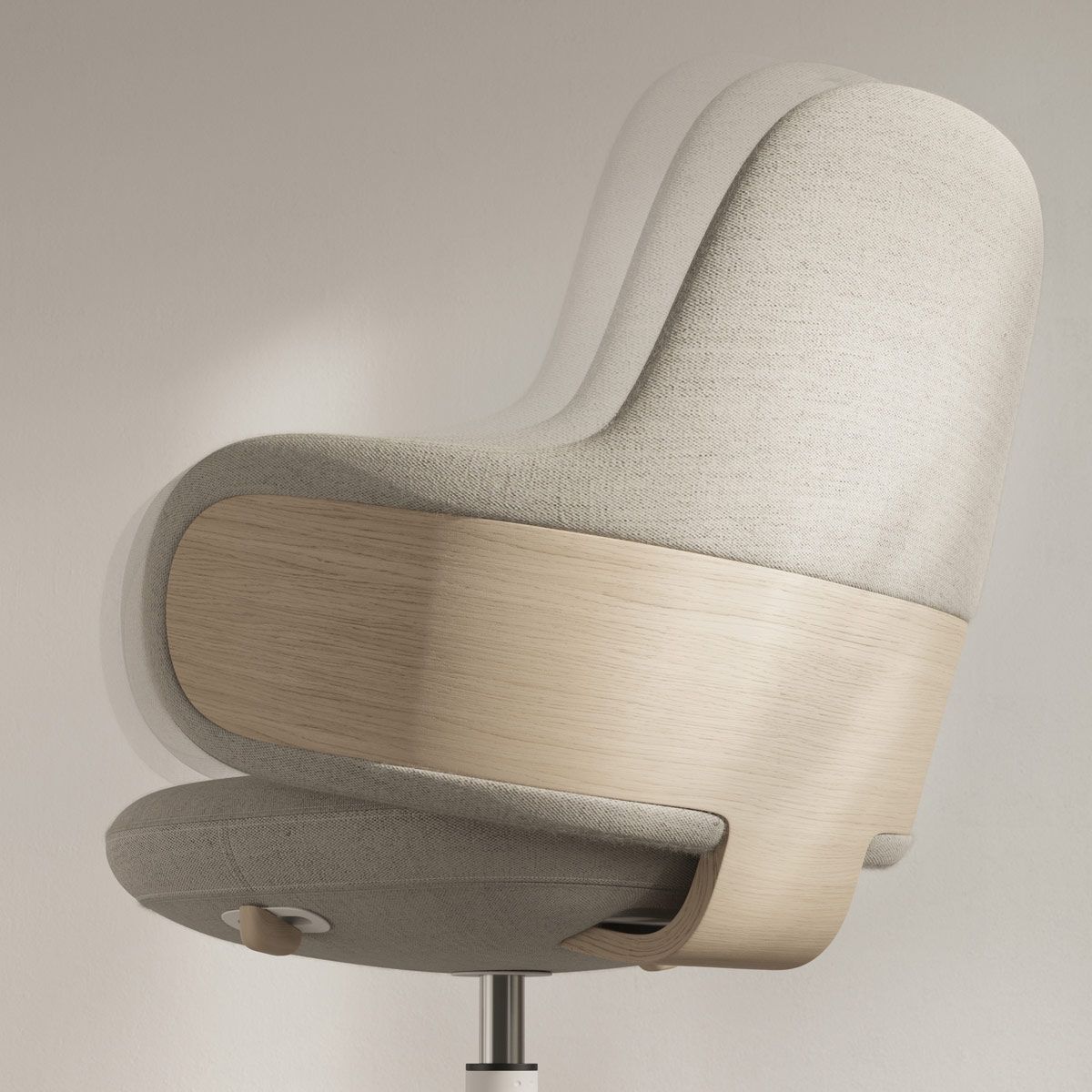 The backrest itself can be locked in three different tilt positions and it features a self-adjusting mechanism – hidden underneath the seat – that tailors the tension of the backrest according to the weight of the user.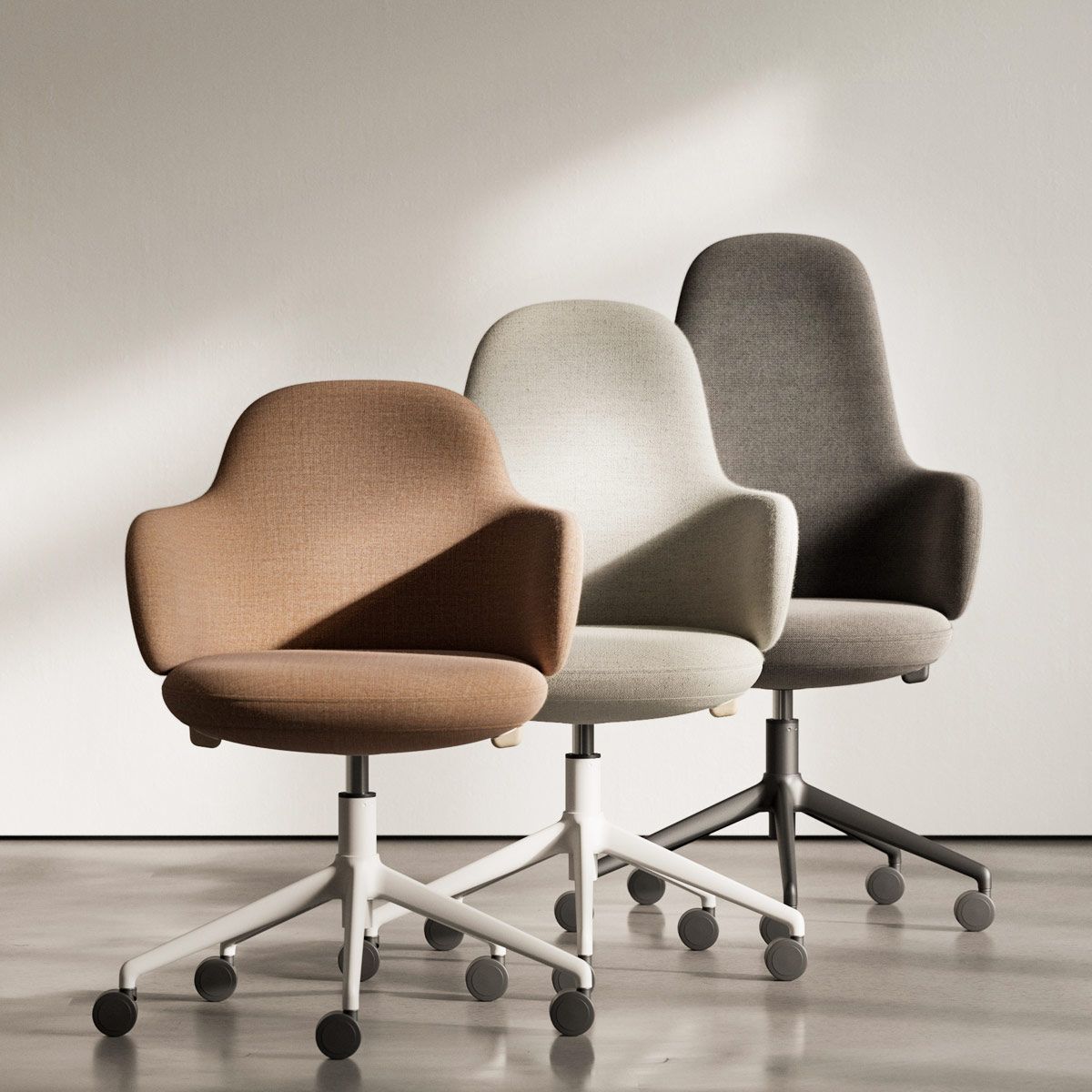 The Lan Desk chair collection comprises of two backrest heights for the swivel chair model. Using Injection moulded foam for optimal comfort, the seat is then fully upholstered in either a Remix, Canvas or Crisp contract fabric. The chair is beautifully finished with a wooden shell back in oak veneer.
FREE Friendly Expert Advice
FREE Personalised Quote
Your Own Personal Project Manager
Product Specification
Standard Product Description
Guarantee: 2 Year guarantee
Designer: Iratzoki Lizaso
Upholstery: Fully Upholstered in a wide range of contract fabrics. Some standard fabric ranges include either Remix, Canvas, Steelcut Trio or Crisp.
Padding: Injection moulded foam seat
Base: 5-star swivel base finished in either white (RAL 9010) or Black (RAL 9005).
Gas Lift: Height adjustable from 440 to 540mm
Mechanism: Integrated mechanism for adjusting and lock the backrest angle max 29º.
Backstem: Wooden shell in oak veneer
Wooden Shell: Wooden shell in oak veneer finished in either Natural Oak, Ash Grey Oak, Tourbe Oak, Cabon Oak, White Stained Oak or Walnut Stained Oak.
Standard: European standard:UNE-EN 1535-1: 2001/AC & UNE-EN 1535-2: 2019
Dimensions
Height (mm) Standard Back 920/1030 and High Back 1000/1110
Width (mm) 690
Depth (mm) 652
Seat Height (mm) 440/550
Seat Width (mm) 490