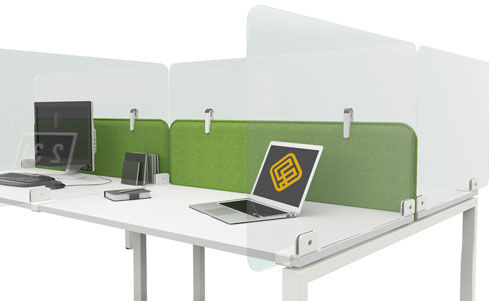 Protective Desk Screens
During this time of unprecedented disruption, businesses need to have protective measures in place, such as protective screens, desk dividers and panels. We know that the desk and chair are one of the required office furniture items not to be considered lightly. But now more than ever it is office accessories such as protective desk screens and shielding panels which are critical to a safer and more comfortable working environment.
With the whole world fighting the COVID-19 pandemic, businesses now have to prepare, as best as possible for the return of concerned employees back into the workplace. Acrylic screens and glass desk screens are a modern solution compared to the fabric desk screen counterparts. The use of transparent and clear materials such as plexiglass and safety glass screens not only allows light to pass through the office but work colleagues can also see each other. Having glazed screens made from either glass or plastic are also easy to clean and disinfect. They are also easy to install and fix to most desks, project tables, and there are solutions for meeting tables.
If glazed screens arent what you want, then there are fabric desk screens that use anti-bacterial fabric or vinyl. At furnify, we recommend the About me office accessory range; it focusses on the "My Space" which is a concern most of us have when we return to the workplace. We all want to be shielded from this invisible threat. The About me office accessory range offers a full package of protective measures that offer protective shielding for fast and safe division of personal workstations. The About Me accessories include freestanding desk screens, containments screens, gantry screens for something a little different, glass screens, Add-on screen for office who have desk screens but need them made that little higher and then the Up And Over Screen. All the screens in the range can be mixed and matched to deliver a working solution for your business.