Social Distancing Solutions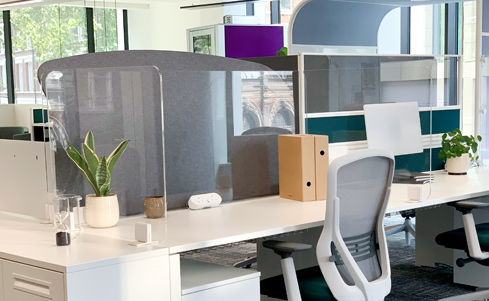 Office Social Distancing Solutions
At furnify, we have social distancing furniture solutions and accessories to ensure your office is set up to protect your staff from COVID-19 infection. If you run a business or workplace that needs crucial staff in the office, furnify can help you to fully prepare for the return of office workers by implementing social distancing measures.
Whatever solutions or accessories you choose, your social distancing office design needs to be smooth, seamless and not so obtrusive that staff becomes anxious about safety — which could hinder productivity, efficiency and collaboration.
When your staff returns to work at the office, you'll need to adhere to the latest UK government advice on office social distancing measures so that everyone is safe. Our social distancing solutions help you achieve this while also complementing your existing furniture and overall office layout. Browse our extensive office social distancing solutions and accessories below, and place your order today.
Office Social Distancing Measures
Apart from installing social distancing furniture and reminding staff to abide by the two-metre office social distancing rule, what other distancing measures do you need to do to keep your office-based employees safe from COVID-19 infection? Here are some steps to implement:
Carry Out a Risk Assessment: The government advises that before you do anything in your office and invite your staff back, you carry out a thorough

COVID risk assessment

of the workplace. This involves looking at how people work and the situations they typically find themselves in so that the risk of virus transmission can be lowered or eliminated.

Ask Office Visitors to Wear a Face Mask or Covering: This is especially important if they are not regular visitors and don't usually spend a lot of time with the people that work there. If they're exempt from wearing a face mask, they may carry a

printed notice or have one on their phone

.

Provide Lots of Hand Sanitiser Stations at Strategic Spots: It's vital that you provide hand sanitising stations for staff and visitors to use. Instruct those in charge of cleaning the office that it will need to be done more often — especially with regards to surfaces that are touched frequently during the day. And, weather permitting, try to keep windows and doors open as much as possible to increase ventilation in the office.
Other Office Social Distancing Steps
Put up clear and visible signs to remind workers and visitors of social distancing obligations.

Use floor tape or floor adhesive signage, or replace carpet tiles with signage tiles.

Create a one-way system in the office with clear direction arrows.

Use

protective desk screens

to separate workers from each other.

Our affordable, quality products and

Back to Work

packs range from

workplace signage

, protective desk screen dividers, signage carpet tiles and hand sanitisation stands to wholesale PPE supplies in high volumes.
Need Help with Your Office Social Distancing?
Getting people safely back into the office is helping to reopen the economy. But you might be wondering "how do I get people back to the post-COVID workplace?" furnify is here to make it easy with a free workplace design consultation using Microsoft Teams. We walk you through a wealth of office social distancing products that help shield staff while retaining the value of your existing furniture. You can also request a social distancing office design visit.
Contact us today on 020 7632 7573, and take advantage of our comprehensive range of office social distancing solutions.