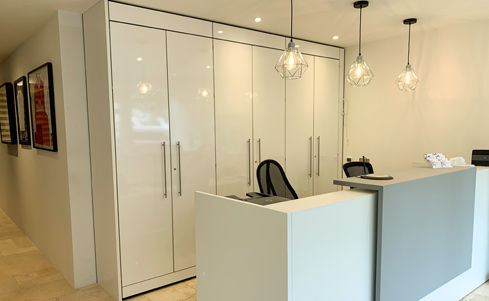 Storage
We at furnify offer a wide range of stylish office storage solutions for the modern office. If you need office storage to help manage your files and folders while keeping them safe under lock and key then look no further than our custom wall storage. If its personal storage you need, then we offer under desk mobile pedestals in a wide range of styles and designs.
My-Choice Lockers

My-Choice Lockers offer a wide range of modules with different compartment sizes to mix and match.

Play Personal Lockers

Play Personal Lockers offer secure storage while supporting ad-hoc and collaborative working.

My-Personal Office Lockers

My-Personal Lockers offer you unique personal office storage units designed by you to fit within your space.

UV BENCH

The UV Bench for surface disinfection of objects to help block potentially harmful virus transmission.

Nova Nice Pedestals

Nova Nice Pedestals offer a range of mobile or static desk height pedestals in various finishes.

Vari Credenza

Vari Credenza is a customizable storage range to create unique modern office credenzas.

CBox Pedestal

CBox Pedestal is an eye-catching personal under desk storage unit with optional seat pad.

Tall Division Storage

Define My Space Tall Division Storage offers desk-side personal storage and encourages a clean desk policy.