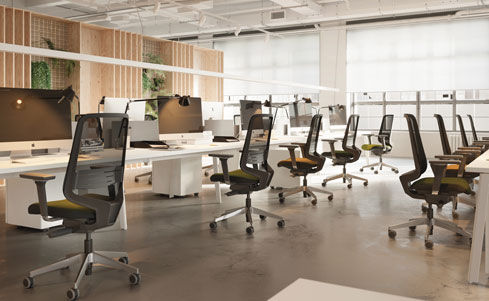 Task Chairs
Our Task Chairs are perfect for both home and workplace settings. When in search of an office seating solution, consider the comfort of your desk chair. The right chair should provide the user with a good range of ergonomic adjustment features to help ensure a comfortable seating experience. When deciding on desk chairs for the workplace or the home office setting, it's essential to be able to adjust the chair for your height to obtain the correct working posture.
Give your body the support it deserves. By choosing a good quality computer chair with built-in lumbar support, reclining tilt mechanism and locking, you won't regret your choice. The furnify range of ergonomic designs helps maintain the correct working posture and keep your back healthy while you focus on those crucial tasks. Our office chairs feature way more than just a swivelling, reclining and height-adjustable computer chair. Some include inflatable lumbar support, multi-functional armrests and a sliding seat, all of which allow you to adjust the computer chair to your own body.
All our operator chairs offer a range of quality contract fabrics in a variety of colours, so you can be assured you'll find one that matches your workplace setting either at home or at work.
Skate Task Chair

Skate Task Chair is a supportive mesh back desk chair that requires little to no adjustment.

se:motion Office Chair

se:motion Office Chair offers a flexible seating solution which is ideal for the new work culture.

Kirn Office Chair

Kirn Office Chair is a green thinking ergonomic desk chair made black and white.

Dont Sit Seat Cover

Don't Sit Chair Covers allow you to take chairs out of service and avoid unnecessary cleaning.

I-Workchair Task Chair

I-Workchair is a premium ergonomic task chair developed for the new range of postures seen in the workplace.

Flow Chair

The Flow chair family offers seating solutions for the meeting table, visitors and lite task chairs.
Office Chairs: work comfortably at work or home
If you're an office worker still working from the office or now working from home, then a comfortable and robust office chair is a must. A comfy desk chair should be a prerequisite if you spend a lot of time in front of a computer or studying. Besides adults, school-age children and university students also need a good ergonomic office chair. Sitting with the correct posture helps maintain a healthy back and spine. Having an adjustable office chair ensures you sit at the right height in proportion to your office desk or computer table - having the right chair will make all the difference.
Superb Seating Comfort: A wide selection of comfy desk chairs
We at furnify we offer a wide range of task chairs, developed by world-renown designers in collaboration with furniture manufacturers. We offer seat design designs