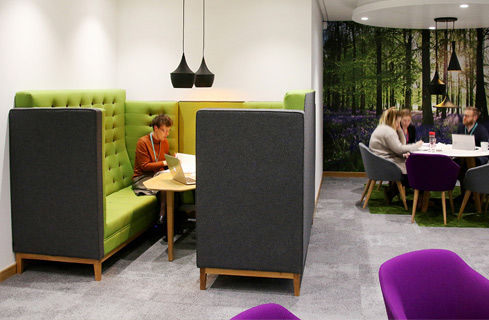 Office Sofa Dens
Office Sofa Dens are semi-enclosed soft seating booths where a lesser, but still refined level of acoustic privacy is required. They feature high backrests and are generally used as stand-alone units or combined to create free space sofa meeting pods giving workers an alternative place to work, collaborate and hold informal meetings.
Bob Meet Sofa Den & Pod

Bob Meet Sofa Den and Bob Meeting Pod offer different levels of open or semi-enclosed meetings olutions.

Pitched Roof Pods

Pitched Roof Pods offer soft seating mobile office pods for staff to collaborate and meet.
Sofa dens and sofa meeting pods are ideal workplace furniture solutions that help reduce small teams using meeting rooms for unimportant tasks. Introducing furniture typologies into the open office means they can be placed anywhere and relocated at any time if required.
The office dens bring homely comforts into the office with comfortable seat cushions that invite users into the defined zone and guarantee comfortable seating.
Office sofa dens are available in various designs with many features designed to accommodate every current office requirement. These innovative office furniture solutions cater to small and large groups, from two users to teams of staff that need a fun, creative, collaborative space. Modular in design and mobile they can be wheeled into an area and linked to create hubs for groups to work and brainstorm. The units offer both wooden finishes, or they can be fully upholstered, which can help provide acoustic privacy, sheltering users from surrounding office noise. With the optional choice of power and data, sofa dens offer the means to add any AV equipment.