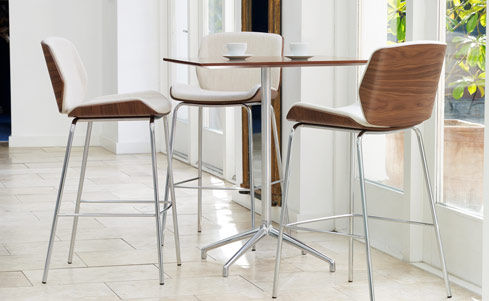 High Stools
How we work in today's modern office and the furniture we use have made high stools a workplace necessity. With the workplace now encouraging off-chance encounters, impromptu discussions and social buzz areas, we have more variable workspaces using high tables that need bar stools. Both high tables and media bench tables offer staff spaces to meet, collaborate and have video conferences. They offer low, medium and high fixed height stools and height-adjustable barstools. High Stools are well suited in breakout spaces and canteen areas, providing workers with different heights to eat or drink.
Hula Bar Stool

Hula is a range of high stools available in ten colours and with or without a backrest.

se:spot stool

se:spot stools offer a great workplace and lifestyle bar stool solution in two heights and in two frames.

Strain Barstool

The Strain Barstool offers a formed seat-shell and interweaving steel tube leg frame.

Bethan High Stool

Bethan High Stool with solid Oak frame legs and upholstered seat shell in a wide choice of fabric colours.

Kin High Stools

Kin High Stools with plastic seat shell or upholstery and with two different frame choices.

Agent Bar Stool

Agent Bar Stools with a generous scoop seat for a comfortable seat around a high table.