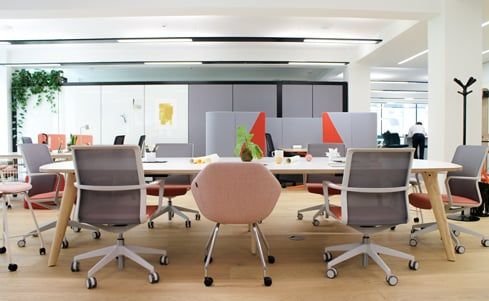 Office Chair and Seating
Seating in general in the modern office needs special consideration. Be it seating like high back sofas, meeting chairs, breakout chairs or most importantly an ergonomic office chair for your workforce. Having the right seating solution in the right environment can make a huge difference on how users make use of the space. We at furnify, supply a wide range of modern office chairs for all areas ranging from commercial environments, hospitality and training institutions.
A11 Privacy Chair

A11 Privacy Chair is the first of its kind with an acoustic sliding panel for privacy.

Flord Modular Sofa

The Flord Modular Sofa provides the perfect soft seating solution for hybrid workplaces.

Trost Lounge Chair

Trost Lounge Chair with solid wooden legs offers a sculptural and comfortable seating solution.

Hoot Stools

Hoot Stools distinctive design allows each stool to neatly nest together to create a multitude of configurations.

Paloma Meeting Chair

The Paloma Meeting Chair offers a four and five-star swivel base with a height-adjustable tilt mechanism.

Ilk High Lounge Chair

ILK High Lounge Chair is both inviting and stylish making it suitable in any workplace interior.