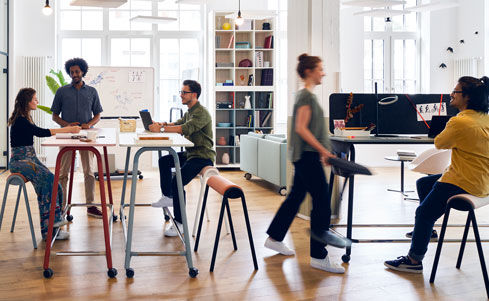 Agile Office Furniture
Agile Office Furniture solutions to help encourage your staff to express their genius at work.
Your source for agile office furniture solutions. All the office furniture found here provide the modern workplace with the means to adapt to any work situation.
Find pragmatic intuitive to use and lightweight furniture that looks good and is fun to use in the modern office. 
As modern offices transform into open offices, there is a need for more flexibility - office workers need free rein to thoughts and ideas.
Furniture ideal for agile working, Smart working and Multifunctional rooms
At furnify, we bring together the best agile office furniture solutions like the se:lab range and Play furniture collection as well as many other great solutions for creating a more flexible workplace.
What is an Agile Office?
The Agile Office refers to a workplace designed for maximum flexibility. The office design and furniture empower staff to work how, where and when they choose while keeping them connected. Office workers in agile office environments are often not constrained by conventional working hours and may also work remotely.